Lesfic Eclectic Volume Three
Edited by Robyn Nyx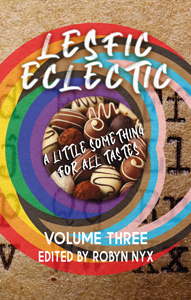 This is the third year in a row that one of my short stories was for the Lesfic Eclectic anthology. It's a humbling experience having my work appear alongside such great new and established voices once again. This year I have tried my hand at fantasy and I hope you'll like my short story Wings Apart.
This volume contains twenty-three short stories across the lesbian fiction genre and guarantees to have a little something for everyone's taste on offer. You can find stories by Ally McGuire, Helena Harte, Jeannie Levig, Lee Haven, Jazz Jackson Stone, AJ Mason, Julie Cohen, Sue Still, Sarah Snow, Emma Wallis, Emma Nichols, Kitty McIntosh, C.A. Hutchinson, Frankie S Carson, M. Ullrich, Jenn Matthews, Valden Bush, Tabetha Dale, Maggie McIntyre, E.V. Bancroft, Robyn Nyx, Brey Willows and Margaux Fox between the covers. Get your copy from Amazon now. Amazon.com – Amazon.co.uk – Amazon.de
Lesfic Eclectic Volume Two
Edited by Robyn Nyx
I had the incredible honor of being part of the second volume of Lesfic Eclectic. This new volume is made up of twenty new and exciting short stories by Helena Harte, Margaux Fox, Emma Nichols, AJ Mason, Eliza Hale, Emma Wallis, Lily Morris, Serena J Bishop, Anne Shade, S Derkins, Sam Skyborne, Margaret Hall, Jenn Matthews, E.V. Bancroft, Anna Larner, Lee Haven, Carla David, Robyn Nyx, Brey Willows and Valden Bush. You can download the FREE ebook version here!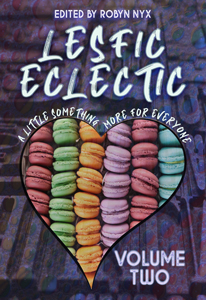 Lesfic Eclectic Volume One
Edited by Robyn Nyx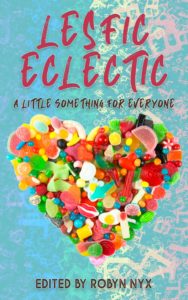 This is very exciting news. My first short story was just published in the first ever Lesfic Eclectic anthology edited by the wonderful and talented Robyn Nyx. This wonderful anthology contains a collection of short stories from new and established authors alike, spanning many different genres within lesbian fiction.
There are fifteen new and exciting short stories in this anthology by established authors such as Gill McKnight, Lise Gold, Jeannie Levig, Jenn Matthews, Jen Silver, Emma Nichols, Robyn Nyx and Brey Willows. As well as exciting new voices from Valden Bush, E.V. Bancroft, AJ Mason, Kitty McIntosh, Rachael Byrne, Clara David and Lee Haven. You can download the FREE ebook version here!